I decided to replace my cabin lights with newer, brighter, and more energy efficient LED lighting, and I wanted to add the option for red lights for night as I do go out at night a fair amount, and really hate when someone turns on the white cabin lights and I am at the helm as I go blind from all the light.
My old cabin lights were these Guest 5 3/4″ lights, I replaced 2 of the 3, leaving the one in the head alone (the one pictured below) as it doesn't get used much, nor does it need the red light option.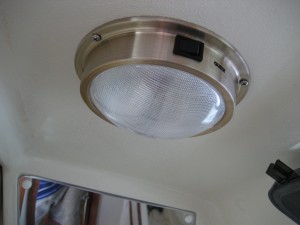 I did quite a bit of research on what LED lights out there were the best, and I finally decided to take Maine Sail's very good test results and purchase the white and red Sensi Bulbs G4 replacment LED despite the fact that they are pretty much the most expensive solution I found. Once I decided on the Sensi Bulb I had to locate a housing to put them in, and I finally decided on the ABI 7″ stainless steel dual bulb dome light Unfortunatly Defender shipped me the high/low model instead of the white / red model, so I had to do a little re-wireing of the switch so it didn't turn both bulbs on at the same time, that fix only took me about 15 minutes in total for both lights so it wasn't a big deal.
Installation was pretty straight forward, I removed the old lights, cut the wires, and put them aside. Then I filled the center of my butt connectors with DiElectric grease, and cripmed the connector on the exposed ends of the wires, pre-drilled the mounting holes and screwed the lights into the cabin top. Installed the bulbs (everything was pre-installation tested) and flipped the cabin light breaker and tested them out. 
I'm glad I went with Maine Sail's reccomendation, the lights are very bright at night and they really light up the cabin well, and the red option is great for when I'm underway and don't want to kill my night vision.  Plus being that they are low power consumption LEDs, I don't have to worry about the cabin lights draining the batteries while we sit at anchor.
11 Responses to "Cabin Light replacements and LED upgrades"